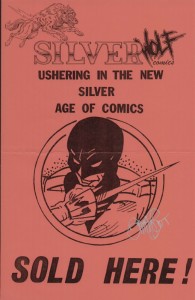 I stated in an earlier post that "If you were not there and did not see it yourself, I imagine it is hard to imagine but for a few years almost anything in B&W and/or a #1 issue would just sell, period."
Now, it is fair to say that a lot of the art used in many Silverwolf books was not up to par with Marvel or DC Comics, and some would wonder why would anyone buy this stuff. This post tries to mine the information online about Silverwolf to explain why.
The truth is we can all blame the Teenage Mutant Ninja Turtles, Tim Vigil, and Grips.
The following is from the blog of Malibu Comics founding publisher Dave Olbrich, Funnybook Fanatic:
The beginning of the black-and-white boom is usually measured (people measure these things?) from the release of Teenage Mutant Ninja Turtles #1 in May 1984. With an original print run of only 3,000 copies, TMNT #1 grabbed the attention and imagination of comic readers and collectors.

…The insanity of this time is impossible to describe accurately. Enthusiastic comic amateurs started pitching any high concept or parody that came into their brains and publishers rushed them onto already bloated release schedules with reckless abandon.

…All this driven by greedy collectors, not reader collectors, but the "I'll buy this today and sell it in a month or two at a profit" collector…Kris Silver saw the trend and geared up to take advantage. His company Silverwolf jumped in DEEP. As an example, the company solicited 19 titles for release in January 1987 and 13 of them were first issues."

I do suggest reading the whole thing.


Another must see post online mentioning Silverwolf is at Drawn and Quarterly, here's a bit of it:
Enter Kris Silver…a "strange, nunchuck-wielding nerd" who owned Alexander's Comics in south Sacramento…He published books out of this storefront under the Silver Wolf banner. Foster, McCart, and even local artists like Ron Lim and Tim Vigil ended up doing work for Silver Wolf.

Many say these comics were bad…"unreadable" and "poorly drawn,"…But collectors during the mid-'80s were eating up black-and-white comic books. The Teenage Mutant Ninja Turtles series had brought about a boon, and Silver Wolf rode its coattails…Vigil, a local artist known for the popular horror comic Faust, started off at Silver Wolf on Grips…Grips sold like gangbusters and was Silver Wolf's most popular title."
Again, I suggest reading the whole thing.
By the mid '80's the comic book retailing market had changed, switching from newsstand retailing to the specialty comic book shops. I cannot find solid figures, but in the late '80s there were probably somewhere between 1000 and 3000 of these shops. Let's just use the smaller number. If each shop sold only one copy of each Silverwolf title per week (4 copies per shop per month), even at that low a sales rate, we would be looking at a print run of 4,000 copies.  
From wikipedia, regarding the 'direct market':

As early as 1980, Marvel Comics saw the growth potential of the Direct Market, and by 1981 was putting out a number of titles geared specifically to that market. By the early 1980s, all the major publishers were producing material specifically for the new market, series that would probably not sell well enough on the newsstand, but sold well enough on a non-returnable basis to the more dedicated readers of the Direct Market to be profitable.

 As newsstand sales continued to decline, the Direct Market became the primary market of the two major comics publishers (DC Comics and Marvel Comics). In the late 1980s and early 1990s, as the popularity of comics collecting grew, many new comics shops opened, and existing retailers (such as sports card shops) joined the Direct Market…

From the mid-80s to the mid-90s, nearly every major urban area in the United States had at least one (and sometimes two or three) local direct distribution warehouses that functioned not only as distribution points for pre-ordered weekly shipments, but also as what could be described as "supermarkets for retailers", where store owners could shop for reorders and examine and purchase product that they might not have ordered in advance."
With the speculator boom coming on full swing, it's not a stretch to imaging how Silverwolf was having print runs of 20-50,000 copies, despite the overall lack of quality. This black and white boom was fed a few years later by the major publishers who chose to pump the mainstream market full of book after book featuring multiple variant foil-embossed die-cut covers on their latest crossover in which a top-tier character dies…available only in a poly-bag, of course…which led to the larger speculator craze and the impending crash in only a few short years.
But a lot of companies were on the TMNT/B&W bandwagon, so why did Silverwolf and Greater Mercury Comics last as long as they did?
There's a podcast at Factual Opinion regarding Tim Vigil and Faust, and it mentions his time at Silverwolf. It gives us an informed (and factual?) opinion as to what kept it all going. In four words: Tim Vigil and Grips. From the podcast notes:
At 07:02: Grips debuted in 1986, a little over two years after Teenage Mutant Ninja Turtles, bearing a lot of the same Frank Miller-tested, mutant-approved concerns.  Vigil did a lot of work at SilverWolf, some of which wouldn't actually see the light of day until an ownership change saw the company re-branded as Greater Mercury Comics – amazingly, an iteration of Grips was still running in 1992, long after the Vigil backstock had extinguished.  That's a testament to the original content's success…"
The iteration referred to was Greater Mercury Comics' Grips Volume 2 which lasted 12 issues. Volume 2 #1 was published in August 1989, and #12 came in March of 1992, 31 months later. Thus, there was an average of 2 1/2 months between issues…this is not a good thing when talking about a company's flagship title.
Ironically, the last issue of Grips hit the stands the same month The Punisher War Zone made it's debut (March '92). A lot of speculation was made that Grips was not just a rip-off of Wolverine, but The Punisher as well, and just when Marvel needs just one more space on the shelf for a violent vigilante…well…ironic, eh?
And about that Punisher War Zone #1…care to guess if it had a die-cut cover? Anyone? Bueller?

---
Your thoughts are welcome. You do not need to register to post comments.