Moby's Digital Pick for Free Comic Book Day 2014 is…

Last year's pick of Bombshell #1 (Hero Universe Comics) went on to have a successful Kickstarter campaign and generally was a great pick. Like Bombshell, Tomorrow Jones has three issues in the series, and you can get the first one for free right here.
Like before, I chose this book because of it being an independent comic and because it's a bit of a different take on superheroes. I also wanted to pick something that would be enjoyable for all types of readers as well.
The comic is not new, having had a successful Kickstarter campaign in 2012. But still, it's online and free. And it's a lot of fun too. Series creator Brian Daniel (@BrianWithCheese) gives us a fun coming of age story involving family and school, all centered on a strong female character. Good stuff.
So who is Tomorrow Jones? Here is the description from Comixology:  
Tomorrow Jones, 14 years-old and the second child in a family of superheroes. While she may be strong enough to fold an armored truck into origami, Tomorrow has to pretend to be a normal girl at school.

Her father won't take her seriously, and her traditional heroine mother expects Tomorrow to follow in her footsteps. But Tomorrow doesn't want to dress in skimpy spandex though, and starts fighting crime unmasked and simply wearing jeans and a T-shirt with her real initials on it.

All the while her parents keep trying to get her to do things "the traditional way" and Tomorrow finds she might be getting in over her head in the superhero community."
If you enjoy this book, please stop by the Tomorrow Jones website and let them know. I'm sure they would appreciate it. And next year, perhaps something with more spandex…who knows?
---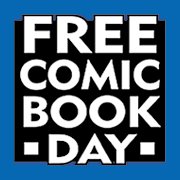 Free Comic Book Day is a single day – the first Saturday in May each year – when participating comic book shops across North America and around the world give away comic books absolutely FREE* to anyone who comes into their stores. 
Find a participating shop for Free Comic Book Day
http://www.freecomicbookday.com/storelocator 
*Check with your local comic book shop for their participation and rules.
---
Here is a quick rundown of a few places to go for free comic books. There are many, many places online including sites dedicated to public domain comics and such. Feel free to leave your favorite place online in the comments!
Moby's Favorites:
Dark Horse Comics has an excellent selection of 88 comics available for free.
Comixology also has a great selection of free comics available, including plenty of first issues.  Want to see what the buzz about Image's Saga or The Walking Dead is all about? You can download both #1's for free here. Also available: former GMC artists Scott Reed and Shane White's The Overman #1, for free of course.
And more places for free comics:
Both Marvel and DC's free offerings online are sparse, mostly just promotional materials and such.
Drive Thru Comics has a vast selection, though the quality varies greatly. Available here are even a couple of issues of The 10th Muse with art by Roman Morales III.
Catspawdynamics: Silverwolf/Greater Mercury fans, I humbly suggest the offerings from artist Scott Dutton. He has downloads available of both issues he drew for Kris Silver (GMC's The Eradicators #3  &  #4) and a nice selection of his other work as well.