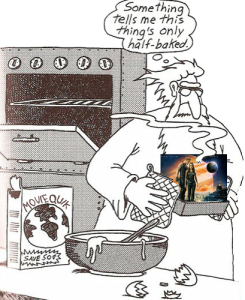 Even if you are a writer, you will still need a concept before you can write the story. And do not make the mistake of thinking they are the same thing, either. 
Star Wars is nothing more (at the least level) than a fairy tale set in space. You have the good wizards and the bad, the prince and the princess, the evil enemy complete with a huge castle, the thief who turns out to be a diamond in the rough, and so on. Great concept, but there is no story there. 
Without fleshing out those characters and giving them wants and desires to motivate them, nothing is actually happening. And this leads to my problem.
Moby is more of a 'concept' guy than a storyteller. I've had some good ideas and bad ones, but generally speaking it's the setting or circumstance that I find interesting, and I can usually think up some ideas that are at least a bit different or new-ish. But I don't trust myself to actually write, much let script, the actual story. Continue reading »