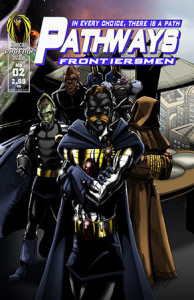 Issue #2 of Pathways by Dragon Phoenix Media is out now ($2.99 Digital) and again I've had my chance to look it over. I'm glad I did.
Pathways #2 caught me off guard just like the last time…I had forgotten the depth of story that Bill Lutz put into the the first two installments in the series (Issues #0 and #1). So, I find that I have to stop partway through and get comfortable because this book is something that you actually read, not just skim through like the latest Daredevil reboot.
The opening act sets in motion the 'why' of the upcoming adventure. Writer/Artist Bill Lutz again uses some great panel placement to allow for dense dialog while also using the art itself to tell the story.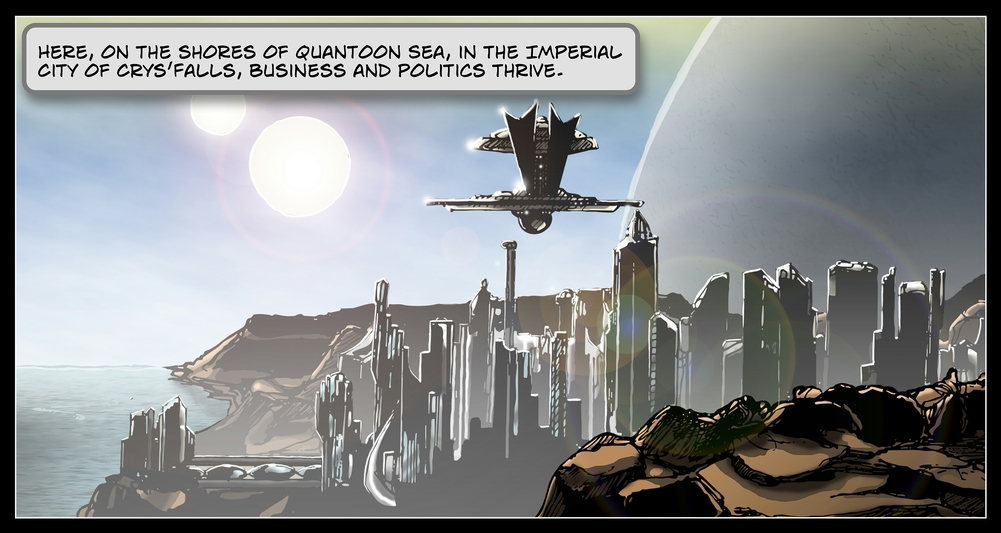 The art first introduces us to a slightly alien cityscape (with fantastic coloring by Robert Barnes) that tells us so much before we even get into the story. We can tell that this is not earth (twin suns, etc.) and that this city is advanced yet peaceful.
As the panels then move indoors we see a room that is recognizable for it's purpose, but filled with enough aliens to let you know this is no earthly government debating their future. 
It may seem like I am making a big deal about the paneling, and maybe I am. It's just nice to see a comic book that actually does the little things to tell the story visually and not act like some illustrated book aimed at children.  For some reason I feel compelled to say something unkind about the Star Wars prequels here as well.
So anyway…I started reading and was just getting into the 'suspension of disbelieve' zone when suddenly…it's time for act 2! Arrgghhh! More! This is the problem with good comic books…you always end up wanting them to be graphic novels and such. Still, there is act 2 which continues a story from issue #1, and also a third story to round out the book that introduces two sisters on opposite sides of good and evil.
I have been informed that the line art for issue three is done and awaiting the coloring work of Rob Barnes and lettering/editing of Glenn E Smith, which is great news.
Moby just needs to learn to be patient. On the plus side, I get to look forward to seeing if I am guessing right about ol' red eyes from act 2. I think he's forming some sort of evil cadre, like the Beatles or something….
You can get Pathways now at Dragon Phoenix Media (available on Kindle and Comixology). Be sure to check out DPM's selection of free Zero issue comics as well!