Update!

Moby's Interview With Carey DeVuono!!!
---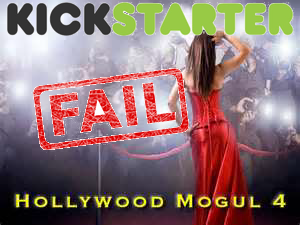 Well, that was not good. The games creator, HMDesigner, called it with about 3 days to go…it was not to be. Not enough support to warrant a fourth installment in the series. Not the result Moby was looking for. I was really looking forward to HM4.
The goal was to raise $120,000 for a project that had a delivery date of December 2014 and was to include the base game and also two expansion packs at the same time. It was ambitious, it was needed, and it failed badly. Of the $120K goal, less than $9K was pledged. For the record, Moby was a backer at the $100 level and I have waited until now to say anything (as though anyone cares).
Fact is there's just not quite any other game out there like Hollywood Mogul. I miss good business sims like Aerobiz. There are a ton of 'tycoon' games out there, but most are second and third rate. The Movies by Lionhead Studios was great and there are others, but this was THE Hollywood game Moby wanted to see.
What is to follow are my thoughts, and it is all made up. I don't 'KNOW' any of this so take it all with a grain of salt, especially if you are mad at HMDesigner because I am going to defend him a bit. Continue reading »