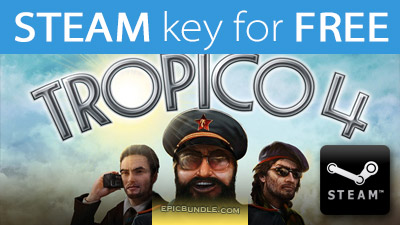 For the next couple of days or so, you can head over to HumbleBundle.com and pick up a FREE COPY of Tropico 4! 
The giveaway is part of their promotion for this year's Summer Sale, so there are some other cool things on sale too. Not better than free though, am I right?
Tropico 4 is a very good edition in Calypso's string of Tropico games, which is now up to number 5. The game is a management and city building simulation where you are El Presidente, the dictator of your very own island in the Caribbean, your very own Banana Republic. 
It's a fun game, and you can play this core version without all the add-on DLC,no worries. All you need is a Steam account, but those are free too. Have fun!
Get Tropico 4 for free here:
https://www.humblebundle.com/store/tropico-4-free-game