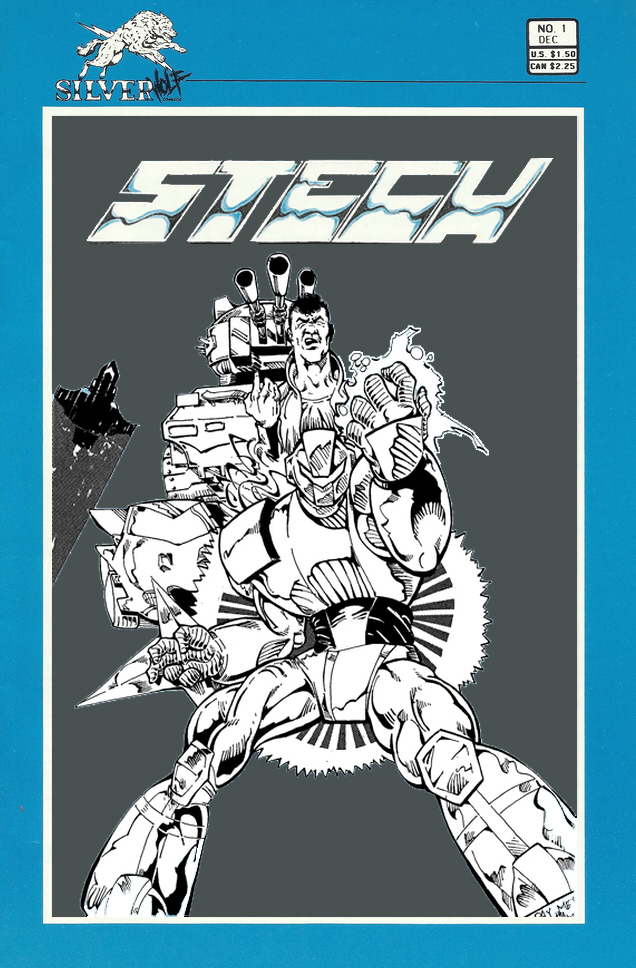 Neill Brengettsey, aka paime (Pay Me the artist),was among the first artists to work for Silverwolf, though his work there was never published. His work included Stech and Guillotine, with some other pages thrown in, and he is mentioned in Silverwolf Bulletin #3 as the artist (Neal Bringetsi) for another unpublished book, Silverwolf Team-Up.
Among the treasure trove of art he has shared with Moby are the first three pages of what seems to have been The Deadly Dungeoneer, two covers and several pages for Stech #1, and more. A lot more. 
Along with the artwork, Neill was able to help paint a picture of the early days of Silverwolf. This post will look at that history and the artist. Future posts will look more closely at the art itself.
---
But writing has always been my passion…The Silver Wolf business has just been a place for me to do what I love doing in life." – Kristoffer A. Silver
---
I was with Silver in the beginning…"
Silverwolf Comics began as a series of fanzines called 'The Silverwolf Bulliten'. These were little more than photocopied 'ashcans' sold by Kris Silver out of his comic book shop in Sacramento, Alexander's Comics, to gauge interest in and showcase upcoming titles. Each one would have a small 4 to 6 page mini-comic inside featuring original characters and sold for $0.35-$0.50 each. It was in these pages that Kris introduces what would later be the bedrock characters of his universe: The Eradicators, The Fat Ninja, and Grips.
The first issue of The Eradicators was published in May 1986, and was a breakout hit.
I had expected a nice little print run of about three to five thousand orders for the first Issue of Eradicators. I got twenty thousand." – KAS
When I mentioned that this success of The Eradicators #1 was what seemed to motivate Silver to expand, Neill said it that was not the case, and that the expansion was planned all along. According to Neill, "(The) Eradicators wasn't an unexpected success that motivated him to expand on the characters, he had that planned from the start…as the owner of a comic shop he had a statistical idea of what sold and so he tended to create to cater to that idea…his plan was about The Eradicators being at the center of his universe. Grips would be a secondary character…"
While it is hard to imagine, given the successful run on Grips by artist Tim Vigil, the plan was for The Eradicators to be the center of the Silverwolf universe. In addition to the main title were three spin-off titles based on The Eradicators; Stech, Thieves, and the planned but unpublished color book Lance.
"I was with Kris in the very early days…Ron (Lim) worked with Kris first, by the time I got there they were pretty close to done with the Eradicators and going to print. When he published the Eradicators, he hired my friend Gary Amaro to do Fat Ninja…he was a couple years younger than me and we went to the same high school. I've known him since then…Chris Tsuda was going to be an inker, I don't think he was set for a book. I was (hired) to do two books — Stech and Guillotine the Robot Ronin.  I was scheduled to pencil and ink both books for Silverwolf…"
"Ron (Lim) was working on the second issue when he started getting interest from other companies…Ron and Chris (Tsuda) left (and) there was just Gary Amaro and I…after Ron left I really wanted to take over the Eradicators. Professional competition I guess you could call it… I was learning how to draw on big paper, learning how to use zip a tone, I had some definite ideas of how to use black and white. My learning curve was fast…"
Instead, the job for Eradicators #2 went to Anson and Benton Jew, and was Published in July 1986. By this time Kris had started expanding Silverwolf's stable of artists, including Dane McCart, Tim Foster, and Tim Vigil.
"(Anson and Benton) Jew did an issue of Eradicators. So when you see (Eradicators #2), that is when Ron and Chris left Silver Wolf . I was still there working."
I asked Neill about what it was like breaking into comics with Silverwolf. 
"It wasn't breaking into comics, I think that's a misconception. It was more like a pirate radio station where we're trying to use what we have to make something, but it wasn't really a professional company. It was just a bunch of guys meeting at a comic bookstore talking about what pages we were going to do, what pages we had done that sort of thing.
No offices, no secretaries, no support staff, no printers all this was somewhere else we just had the guys the pages and the ideas. The lack of a professional structure and the fact that we weren't getting paid at that time let us know that we had not broke into comics."
I have heard about the one page scripts Silver gave to his artists; I hope to one day come across one, or at least a scan of one. Neill confirmed this is how Kris would script his books, leaving a great deal of the work to the artists.
"I'm sure you heard all the stories about Kris Silver's writing technique where he would give you one page, and they would have all the pages numbers and it would say something like: Pages 1 through 7 – fight, Pages 8 through 12 – Stech goes to a bar… see I was really writing the stuff myself, I was just a creative kid, you know, I just wanted to make comic books so for me it was fun. He called it creating comics the Marvel Way, I called it dude you're not doing anything I'm doing all this darn work."

---
Stech: What Could Have Been…
"Stech, who is going to fight these guys who were genetically developed to operate these vehicles, was going to fight in all the elements -land, sea, and air. That's why on the cover I interoffice the idea of him turning into an airplane, a race car, a tank and a sub surface device."
Upcoming posts will feature Neill's artwork on such titles as Stech, Guillotine, and The Deadly Dungeoneer. This post will be updated to add links and such, once I have had the chance to sort through the very generous mound af artwork provided by Neill and annotate it.
For now, I just wanted to give a glimpse at 'what could have been'. Here are a few samples of Neill's artwork intended for Stech #1.
It was his connection to Stech that led me to finding Neill online, by way of his deviantart account. You can see those posts [here], [here], and [here].
Also coming in future posts will be more artwork and insight into the other book Neill was hired to pencil and ink, Guillotine! There may even be a rare original character design sketch among the artwork.
"I've found 10 penciled and inked pages of Guillotine the Robot Ronin. I think I might have some other design stuff…Guillotine was going to start off as a skeletal type robot and then he was going to get a more complete robotic body with clothing  — with a  Samurai type outfit…"
This post will be updated with links as more art is posted.
---
Say Hello to Pay Me, the Artist…
…I started signing my artwork as Pay me the Artist. Which eventually became Paime."
"Kris Silver didn't pay me, that is true, and of course that's where I got my name from. All my names are based on the fact that I started signing his artwork pay me the artist. At the time Kris Silver wasn't paying anybody, so it was a after the book gets published you get paid for the deal…I think I was the last artist he tried that (with)."
"I was taking a long time getting pages done, but the reason was, of course, that I was trying to get it right. I was learning as I went because I hadn't really drawn at that size before. So he tries to strong arm me late one night before a convention. He comes over to my parents house trying to collect the pages. My family was there and they asked him, "Did you pay him for the pages?". Of course he said no, then they said "You need to leave."
"That was the end of my friend relationship with Kris and my business relationship with him…I bought an issue of Stech a few  years ago and I read his version…It wasn't so much of a going south as it was him losing his freaking mind in my parents front yard."
---
I have included a copy, there to the right, of the account in Stech #1 Neill is referring to above. I considered whether or not to include this copy of Kris' account in this post, and in the end I decided to include it. 
The simple fact of the matter regarding artists at Silverwolf getting paid is that some apparently were, and quite a few were not. The latest artist I just contacted made the point in his interview that he was not paid for his issues, and Shane White also makes a similar point on his blog, in a post from 2005. 
---
Another HUGE thank you to Neill for his willingness to share his thoughts and insights about his experience with Silverwolf Comics with us. A lot more to come as I sort out all the wonderful art he sent our way.
You can visit Neill, or paime, at his devianart page, or at his own weblog, Art of the Black Hand – The Worlds of Neill Brengettsey.
---
[Note: All quotes have been taken from an extensive email interview kindly given by Neill and have been edited for narration and clarity. All due care has been taken to keep all quotes in context.]
.