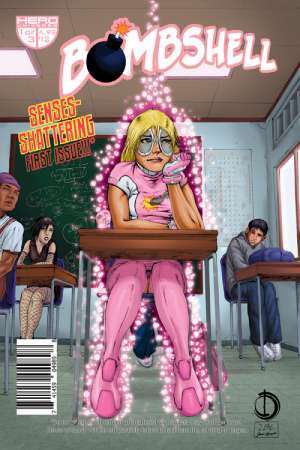 Well, the annual Free Comic Book Day is upon us once again, and I've got a suggestion for a free comic for you! In case you have never heard of FCBD, here's the scoop:
Free Comic Book Day is a single day – the first Saturday in May each year – when participating comic book shops across North America and around the world give away comic books absolutely FREE* to anyone who comes into their stores."
I've chosen Hero Universe Comics Bombshell #1 to be Moby's inaugural Digital Pick for FCBD. There are three issues in the series, and you can get the first one for free right here. There are so many indie comics out nowadays, and many of them are noteworthy, but I wanted to pick something from the crowd that most readers would enjoy.
If you collect comics you have probably imagined what it would be like to wake up and have a superpowers, eh? Then what? You have these superpowers, but how do you become a superhero? That's sort of the premise behind Bombshell.
This pick is in honor of the Bombshell #1 Convention Exclusive Edition Kickstarter going on right now; more info on that is at the bottom of this post.

Katie Spencer was an average teenage girl…until the day she discovered she had superpowers. The problem is, no one else on Earth has them. Super powers are strictly the stuff of fiction to her. There's no previous generation of heroes to show her the way. So, where's a girl to go to learn how to be a superhero?…See what happens when an average teenage girl (with explosive powers) reads a bunch of comic books and tries to become the world's first superhero… Bombshell!"
This is a great book. From the line art by Santiago Espina to the coloring and…well, it's free, so you can see for yourself. You can also see a sneak peek of issue #2 and issue #3 (just click those links).
I found Bombshell via IndyPlanet's selection of Free Full Issue Downloads on offer here. IndyPlanet is great because they offer both digital AND print-to-order; you can download a digital version or have a physical copy shipped to you. Pure awesome, but not cheap. But when is pure awesome cheap, anyways? 
Please be sure to check out the Kickstarter now running to get the Bombshell #1 Convention Exclusive Edition. Here's the proposed variant cover and more info on the Kickstart: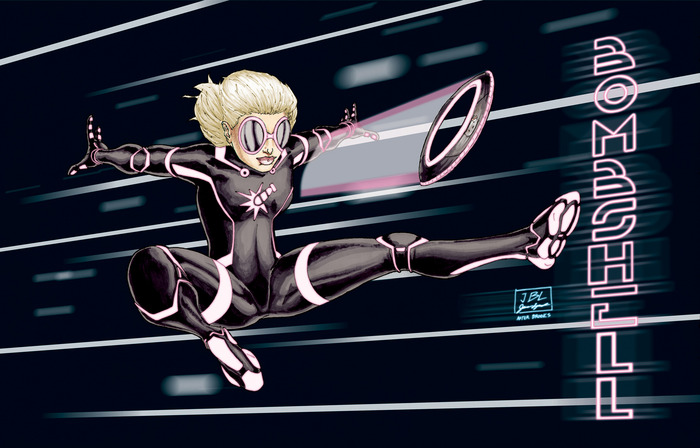 Please help fund this exclusive Bombshell #1 cover, because if we get the cover funded, that means we get to go to Chicago Comic Con."
Physical copies run for $4.99 per issue at IndyPlanet (digital copies are $0.99), but through this Kickstarter you can get all 3 issues, including the variant on the #1 copy you receive, for only $20 and help out creator James Lynch as well. There are of course many other rewards available, including many with original art.
Recommended.