I first saw this comic book on Kickstarter, and it looked like an interesting concept.
The Heroes of Echo Company are a group of elite Space Marines who have taken on the personas of Earth's greatest heroes and legends…The young Marines of Echo Company, Sinbad, Robin Hood, Lancelot, Hua Mulan, Samson, Wild Bill and Musahi, under the command of Erik Wright, code name Ulysses, will have to prove what a real hero is when they are faced with the horrors of war."
The story is set in the year 2145 and the Marines of Echo Company portray themselves as heroes of the past. Just try to imagine the movie Aliens, but with Ripley surrounded by The League of Extraordinary Gentlemen. It certainly was an original concept, and I just had to check it out after seeing some of the striking character pin-ups posted to the kickstarter. You can see them at the bottom of this post.
The art by Joseph Henson worked really well with the story and the pace of the book was great. Perhaps I should not be so impressed by 'panel pages', but by about page 13 I had that moment where I realized just how well the story was being told, both visually and narratively. 
The coloring and 'texture(?)' to the finished work gives the world of Echo Company that 'lived in' look, a bit like the world of TV's Battlestar Galactica reboot, or the film Outland. And like those examples, the inhabitants of Echo Company come across the same way…they too are far from perfect, not just 'bad-ass' heroes, and their flaws give them a bit of depth and vulnerability. They drink, they gamble, maybe cheat a little…you'll love 'em.

Small Spoilers Below: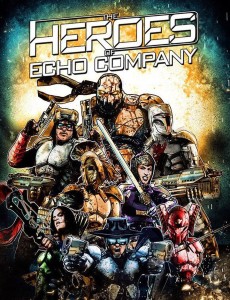 There really is a lot of solid growth potential to the team; should one character get killed off you could have Aladdin, Achilles, Spartacus, or whomever ready to take their place. And since all stories are essentially character driven, this allows a lot of room to tweak the team…or set up spin-offs.
In fact, I had a bit of fun thinking up new heroes that could come along…and then I realized that the only thing stopping someone from showing up in a bat costume and calling himself 'Big Daddy' was a copyright lawsuit.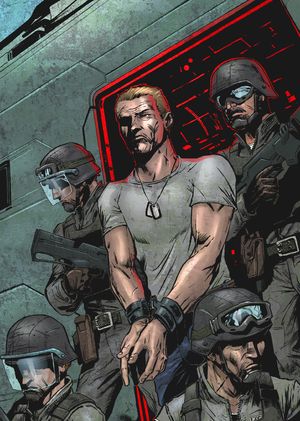 My only criticism with the book is that sometimes issue length can dictate rushing the second act while we are still getting into the story…and I was indeed getting into the story. A lot of action takes place in the last few pages and I would have liked to have had a couple more pages to see how the action played out a bit more. But that's the graphic novel fan in Moby talking.
A seriously solid effort out the gate. I had high hopes for this one and was not disappointed. I am informed issue #2 will be out soon and I am looking forward to it.
The Heroes of Echo Company #1 is now available in digital format at this website and will soon be for sale on Amazon, iTunes, and Comixology.
Overall a great concept and well executed. Recommended.
---
There are several samples of Echo Company's art available in the promotional material but what caught my eye were the black and white pin-ups of some characters from the book. Ulysses and Robin Hood in particular are exceptional illustrations. Please note that the comic is in color. I just really like these B&W pin-ups.

Robin Hood

Ulysses